November 24, 2022
How Can Buying Social Media-Verified Accounts Help Your Business Grow?
Back to Blog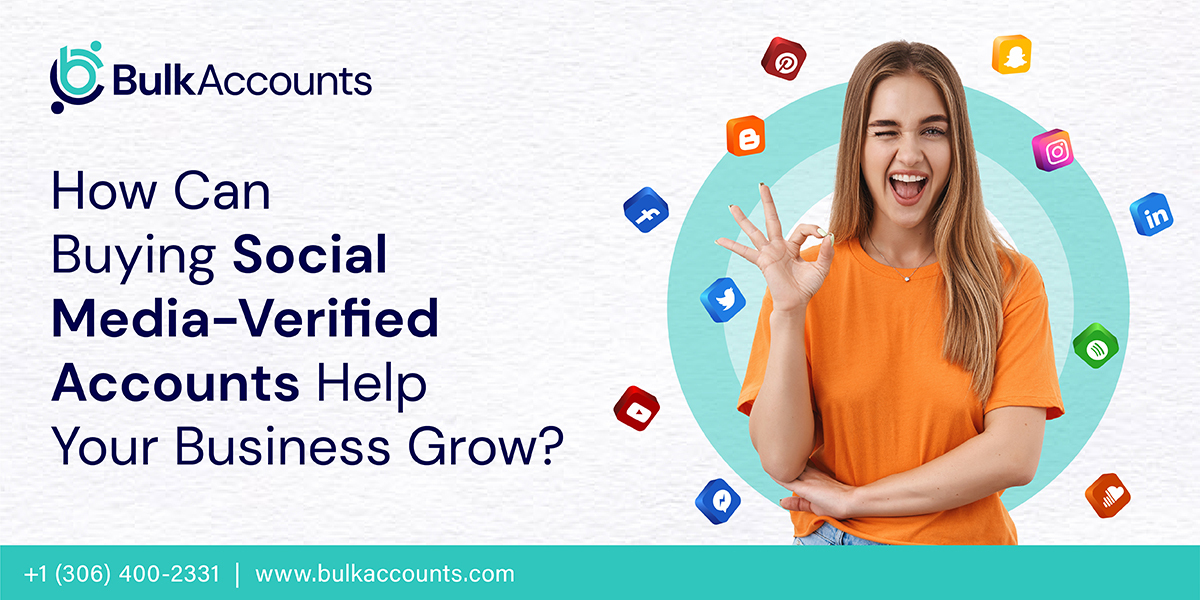 Social media has a significant influence on every business's growth in today's world. It's an excellent way for businesses to connect with their customers. Every brand aspires to have thousands of likes, comments, and followers on the company's social media accounts.
Are you also struggling to grow your business on social media sites? If yes, you can buy social media accounts in bulk to boost your following.
Why Buy Social Media Accounts?
Of course, there are various other ways to gain more followers on social media, such as influencer marketing. However, buying accounts that are verified is the fastest way to gain exposure.
It can benefit your business in the following ways:
Easy Access to a Niche Audience
Building a community of followers for a specific niche can certainly be challenging and time-consuming. However, when you buy social media accounts in bulk, you get instant access to a wide audience. It helps easily target your ads at these niche-specific social media accounts to generate the best results.
As a result, you won't need to struggle with growing your social media account. Instead, you can easily start promoting your products to relevant people.
Targeted Marketing Ads
When you buy social media accounts (i.e., Instagram accounts, Twitter accounts, Facebook accounts) you can choose any customer persona. The seller will provide a follower list that matches your advertising needs.
No matter which social media platform you choose, you will have a readily available, and sizable audience. As a result, you won't have to spend your time, money, or energy looking for the right audience. You can ensure your marketing ads are highly targeted.
These followers are more likely to pay attention to the ads they see through your targeted marketing campaigns. Thus, it's a fantastic way to get the most out of your marketing efforts.
Reduced Marketing Cost
Rather than other marketing methods, like, influencer marketing on social media, buying social media accounts can be relatively more cost-effective. Additionally, if you exchange accounts with an influencer's popular Instagram account, it does not guarantee the same engagement.
On the other hand, ad campaigns targeting the right people can be much more worthwhile in terms of a higher return on investment. As a result, you can save costs and generate your desired results with minimum spending on product promotions.
Encourage New Followers
Social media sites generally enjoy the highest web traffic. However, it's still not easy for business accounts to get their desired reach unless they already have an established following. Therefore, many social media managers opt to buy social media accounts to show they have a genuine following.
Most people tend to follow accounts that already have a massive following, as they see them as reliable. Thus, buying social media verified accounts can be really effective in influencing new audiences to follow your account.
Generate Valuable Leads
When you buy social media accounts, you can generate leads much more easily than wasting money on standard ad campaigns. Instead, you get a readymade contact list with an engaged audience base that will be willing to try your services. All you need to do is create compelling landing pages with enticing offers to increase lead generation.
Drive Relevant Web Traffic
Ultimately, targeted ads help increase your brand awareness and bring more relevant web traffic from your desired audience. Generally, the more website traffic you get the higher sales you can expect. Of course, you will also need additional efforts to make conversions happen.
How Does it Work?
Buying social media accounts does not require much hassle. You only need to follow a few simple steps:
1) Define your needs
First, you need to specify your goals, i.e., what type of social media audience accounts you want to buy.
2) Choose a plan
Based on your needs, the sellers will offer a few options. You need to choose the plan that suits your needs the best.
3) Complete the Payment
You will be required to pay before the final account transfer.
Conclusion
Buying social media accounts can be an excellent way to increase the visibility of your online store and target the right customers. It helps boost your business growth. However, it requires some work, money, and experimentation to get the optimum results.
If you want to buy genuine high-quality accounts, you should consider working with reliable third-party business selling accounts. This way, you get an engaging and relevant audience from many segments as per your business's nature.
Looking to Buy High-Quality Social Media Accounts?
Whether you are looking to buy Facebook accounts or Instagram accounts that are verified, you can rely on Bulk Accounts. We specialize in buying and selling Instagram accounts and multiple social media accounts to help businesses grow.
If you are interested in maximizing your business's online exposure at a low cost, get in touch with us today!