Buy Bulk Yahoo Accounts for Easy Online Management
Product Specifications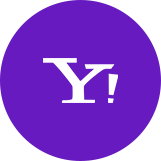 Having multiple Yahoo accounts can be incredibly useful for businesses, as it allows for greater flexibility and organization when it comes to managing your online activities. For example, you can use one account to manage your business email, another for social media marketing, and yet another for online advertising. This helps to keep your activities separate and makes it easier to stay on top of things.
But Why Buy Bulk Yahoo Accounts from us?
Well, for starters, we offer high-quality accounts that are created using the latest technology and techniques. Our accounts are also 100% genuine, which means you won't have to worry about them being flagged or banned by Yahoo. In addition, we offer competitive pricing and excellent customer service, so you can be sure that you're getting the best value for your money.
Account Names: We use local area names based on the client's requirements and target audience. You can specify your needs accordingly.
Age and Gender: We offer age and gender-specific accounts as per the requirement.
At the time of delivery of accounts, we provide:
Login credentials
Name of the profile
Secondary email
Account activities to prove the authenticity of the accounts, with additional cost, may include :
Delivery will be on an excel sheet.
Note:
Any Yahoo account can ask for SMS verification. You can use your own number or SMS activation service for this.
While using these accounts, make sure to use the local IP of your own country.
Multiple consecutive logins from one device or browser can get the accounts blocked.
Refrain from using these accounts for spamming or any such activity.
Avoid doing bulk activities from the account within a small span of time.
We have a no-refund policy. However, we offer replacement of unused accounts only if the issue is reported to us within 24 hours of the order delivery.
These may also interest you View All
Rambler.ru Account

Account Type :

Email Accounts

Min. order qty. 50 units

$0.6Per unit

Aged Gmail Account (3 year)

Account Type :

Email Accounts

Min. order qty. 50 units

$2.1Per unit

iCloud Accounts

Account Type :

Email Accounts

Min. order qty. 50 units

$5Per unit

Premium Yahoo Japan Accounts For You

Account Type :

Email Accounts

Min. order qty. 50 units

$0.4Per unit
Shopping cart
Cart is empty